Customer Journey Configuration
With Tellody you can design a automated customer journey based on an interactive chain of Campaigns and Services; key of this process is the Event concept.
Customer Events
In Tellody, Events are the customer activities that are associated/generated by Services and are used as triggers for Campaigns
Event or Campaign Trigger can be any Tellody Service
For example, Opt-in form, Instant Win voucher, Loyalty Card, Event Pass, Event Admission, Reports, Polls, etc.

Event Messages (SMS and/or Email) will be automatically sent to the customer when she triggers this specific event
Basic Configuration
Set up a Customer Journey as an interactive chain of of Campaigns and Services

Step 1 Create the Services

Step 2 Create the Campaigns and attach Services
The configuration of the aforementioned process is highlighted through the following generic example.
Suppose you want to use as an Event a Tellody Service called Beta, which will trigger an Event Message called Alpha
Step 1. Create the Beta Service
Step 2. Configure the Alpha message at the Event Campaigns level either as an Event SMS Campaign or Event Email Campaign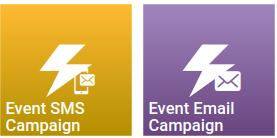 Select as Contact event the Beta Service from the Service list.
The Campaign Set Up page will look like

Execution of the Alpha campaign will generate the following Customer Journey map

Complex Configurations
Combining more Campaigns and Services results to an interactive chain with a complex Customer Journey map