GDPR Campaigns
The new data protection regulation known as GDPR has brought a variety of changes in communication and specifically in communication for marketing purposes; it consists of a variety of options that secures people's consent to the use of their personal data and heavy fines for all the non-compliant corporations.
Thus, you should run a GDPR Campaign and send messages with consent and non-consent options to your contacts to make sure that they are happy to receive your messages.
Telldoy GDPR campaigns will opt out from further communications all targeted contacts. When a contact consents he/she will be automatically opted in back to your list
GDPR Informative Articles are currently available on Tellody blog both in English and Greek Version
#Setting up a GDPR Campaign Tellody handles GDPR Campaigns with great importance and therefore we have prepared "two ready to use" GDPR campaigns. To set-up your GDPR Campaign go through the following steps
1. Navigate to Campaigns Page


2. Click the GDPR SMS Campaign tile or the GDPR Email Campaign tile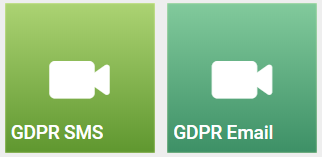 3. Schedule your campaign (SMS or Email)and click the Create button

SMS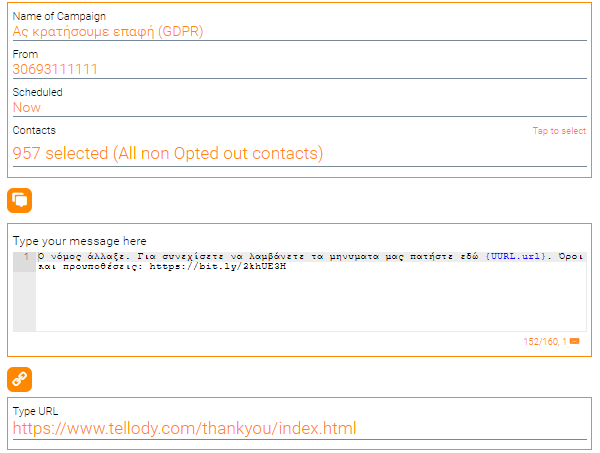 EMAIL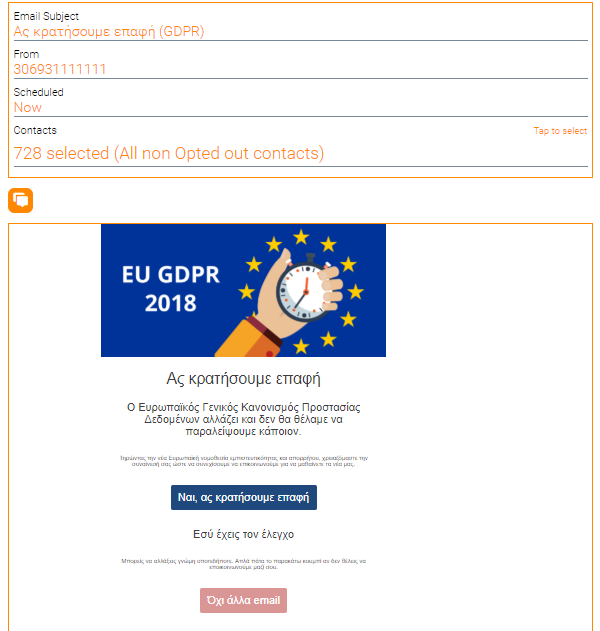 Your GDPR Campaign is active!
Important Notes
GDPR messages are sent to your selected contacts or groups
GDPR Campaign will blocks all your selected contacts
The selected contacts can be unblocked only if they give their consent by clicking on the "Yes, let's stay in touch button"
A GDPR SMS Campaign reserves credits. If you run out of credits a prompt message will remind you to top up your Tellody account.